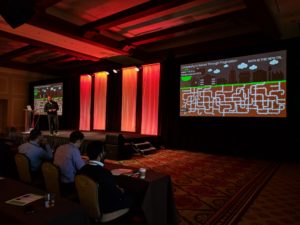 Digital disruption is happening everywhere. We kicked off the 2018 BI+Analytics (BIA) Conference in beautiful, sunny Huntington Beach, CA with an inspirational keynote by the Curator of Cool himself, David Roberts, who leads initiatives within the IT department at a major sports apparel brand. Roberts shared that while users expect a seamless digital experience, many times companies have a tough time delivering because of three things: complacency, complexity and currency. To combat those factors, it's important for organizations to be pragmatic, agile and strategic about the data they collect from customers and how it's being analyzed and operationalized.
Global Innovation Evangelist Timo Elliott continued the conversation of disruption in talking about the big trends happening in the world of BI and analytics. Although analytics has had the same goal for the last 25+ years—seamless insights—the way that businesses are using data is where the opportunity is. Things like automation, machine learning and AI can help save people time and money. While cloud helps to break down traditional functional boundaries, on-premise is still thriving and the path forward is a hybrid approach where businesses are using both. The future of analytics offers self-service and big data access, built-in sharing and collaboration tools, mobile readiness and insight to action with powerful planning. Intelligent, hybrid BI is the way forward and analytics has never been more important.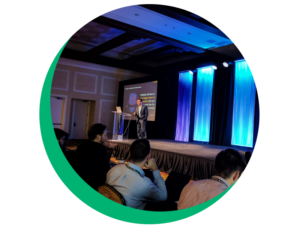 Growing up in a family that owned a chain of toy stores, it only seemed natural that Matthew Luhn would make a career out of creativity. A graduate of Pixar and former animator on The Simpsons, Luhn wrapped up the first day of the conference with a keynote that talked about how big data and storytelling go hand in hand. Months of research and data collection went into the movie Inside Out to determine not only what major emotions every person experiences on a regular basis, but what types of facial expressions and movement those emotions look like to another person. Luhn walked us through the highs (and lows) of effective storytelling and how data is essential to crafting a memorable story.
Using the power of analytics and attention to detail, Jack Levis and his team at UPS realized one mile is worth $50M. Turning data and insights into action, UPS plans for each package to be on the right vehicle for the right day and each package scanned provides a customer connection. Since implementing their On-Road Integrated Optimization and Navigation (ORION) technology, UPS has reduced the number of miles driven by 85M annually, has reduced fuel intake by 8M gallons and has also reduced emissions by 85,000 metric tons.
The final keynote speaker of the conference shared that only 5% or organizations have mastered digital. In thinking about innovation, Global Head of Business Strategy & Execution, Analytics & SAP Leonardo, Geoff Maxwell talked about how Leonardo encourages faster innovation with less risk. Rather than being an actual product, SAP's Leonardo includes proven methodology (like rapid prototyping), innovative technology (think blockchain, IoT, machine learning, big data) and industry accelerators (like assets & logistics) to support process innovation.
In addition to overall strategy during the keynote sessions, the event featured 45 breakout sessions covering content on: analytics, visualizations, dashboards, data services, reporting, BI strategy, core BOBJ, BICC/Teams and SAP roadmaps. Participants also had an opportunity to complete hands-on experiential learning sessions on site as well as a half-day, in-depth workshop on the final day of the conference. Participants learned how to maximize their technology investments and to streamline methods to be the most effective.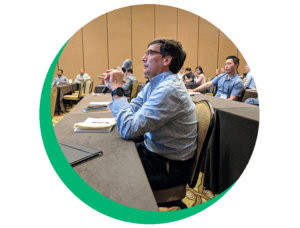 Between keynote speakers and track sessions, the event featured some incredible networking sessions on the exhibition floor, including giant-sized Jenga, Chess and Connect Four games to keep the interaction and friendly competition going throughout the day. SAP also hosted a feedback forum where participants could get to experience new products firsthand and give fast feedback to staff members and product developers on site.
The future of data is ever-changing and companies are using analytics to be strategic about business models and transparency. It's easier than ever to empower individuals to not only create reports and leverage visualizations to see what the data is telling us, but to also make better business decisions based on what the data represents. Companies are moving towards a hybrid approach—utilizing both a cloud and on-premise approach—in tracking data and evaluating analytics.
The BI + Analytics Conference is a celebration of the people, technology, ideas, and innovations that are powering constant change in the way we live and work.